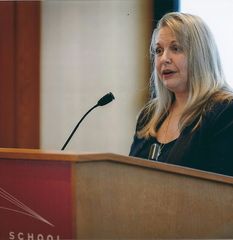 This is an excerpt from my speech:
...Most of us are familiar with the "Pay it forward" term, if not before, then from the novel and movie of the same name in which it describes an obligation to do three good deeds for others in response to a good deed one receives. Ultimately, this spreads geometrically at a ratio of 3 to 1 throughout society and thereby makes the world a better place. Nice idea, no?
Then there's the Pay it Forward Movement + Foundation founded in the USA whose mission is to start a ripple effect of kindly acts all over the world. Currently 113 countries are involved. International Pay it Forward Day was started in Sydney, Australia with the altruistic purpose of demonstrating the power of giving. Thirty five countries now participate, including the US and they believe that 3 million acts of kindness will be achieved by this coming Pay it Forward Day, April 28, 2012.
There are many ways to give back, of course: One is Investing in your community, which could be done financially or with your time and effort. Giving to your community provides you a sense of connectedness and the satisfaction of making your part of the world better. There will always be some who need what we can give or share. In the words of the Dalai Lama: "Love and Compassion are necessities, not luxuries. Without them, humanity cannot survive. If you can, help others. If you cannot do that, at least do not harm them. If you want others to be happy, practice compassion. If you want to be happy, practice compassion." A friend said "Value your education, but follow your passion in building your career and contributing to society." I'd like to add to that one last quote "Live as if you were to die tomorrow. Learn as if you were to live forever." Mahatma Gandhi
BROOKLYN LAW SCHOOL
04.01.12  Endowed Scholars Reception Unites Scholars with Generous Donors
Cheryl Metrick, widow of Richard Metrick '68, spoke on behalf of her late husband and the Metrick Family. The Metrick Family Scholarship was established by Harry Metrick '31 and his sons, Neil '98 and Richard, to assist an upper-class evening student who has family obligations. She spoke about the importance of scholarship assistance and the significance of giving back to benefit current and future students. She emphasized the concept of "paying it forward" and said that donors don't give the gift of a scholarship award, but rather "lend it to each student" until he or she is able to pay it back by lending a gift to others.